Concrete Installation & Repair Best Service Money Can Buy In Silver Spring, MD
No matter how enticed you feel to save some bucks, concrete can be tricky to work with, especially if you are an amateur in DIYs. What if someone can do it for you at an affordable price and with matchless quality? That's where Handyman Service Silver Spring comes in!

Our professionals will come in to discuss your concrete installation and repair needs to design and plan your project accordingly. We are experts in multiple installation methods, including stamped concrete and decorative concrete overlays. Whether you need concrete poured for a new driveway or sidewalk or want to replace damaged concrete on an existing one, we can do it! Our skilled craftsmen will ensure that the finished product meets your expectations and lasts for years.

We have years of experience and know what it takes to do the job right the first time! Give us a call, and let us handle your next project for concrete installation in Silver Spring, MD.
Concrete Solutions For Every Space!
Concrete is the perfect solution for almost any space in your home. We're your go-to solution for all things concrete. We offer a wide range of concrete services tailored to meet your needs and budget, including patios to driveways, pavers to fire pits, and more. Whether you need to add vlaue to your home's appearance or make your outdoor safer for everyone, we have the perfect solution for you! We use the highest-quality material and techniques to ensure that the installation is completed with precision.
Concrete Patio Installation
When it comes to installing patios, we offer a variety of textures, colors, and styles to choose from. You can also choose different types of finishes to match your decor. We'll work with you to ensure that your new patio is installed correctly and looks great!
Concrete Driveway Installation
Our concrete driveway installation service includes both residential driveways and parking lots. We'll create a durable surface that will last for years while protecting your property from damage caused by rain or snow runoff.
Concrete Sidewalks
Choosing concrete for your sidewalks is a great way to make your yard look more visual and appealing. Our concrete experts will help you choose the perfect color and texture of concrete for your sidewalk so that it matches the rest of your property. Our installers will work with your to design the perfect sidwalks for you.
Concrete Paver Installation
We'll install your new pavers, so you don't have to do it yourself! We'll ensure everything is level, straight, and well-mixed before we leave so that your new patio will last for years.
Concrete Steps And Stairs
If you're looking for a new way to get into your house without having to climb up or down a ladder or step stool every time, we can build custom steps for you that match the style of your home perfectly. These steps will be sturdy enough for anyone—even kids—to use safely every day!
Concrete Fire Pits
Let us help create the perfect outdoor space with a beautiful fire pit made out of concrete! Our experts will work with you every step until it's finished just how you want it: size, shape, color—whatever makes sense for your backyard space.
Concrete Repair Service in Silver Spring,MD
Making Your Property Look Like New
The concrete on your property is an important part of its structure. It keeps standing strong and looking good, so when it starts to crack or break down, it's time to call us! We're the experts of concrete repair in Silver Spring, MD, who know what it takes to make your foundation strong and stable again. With our expertise, we can fix anything from small cracks and holes to large-scale projects like resurfacing your entire driveway.
And guess what? Our concrete repair services are reasonably priced with flexible scheduling options!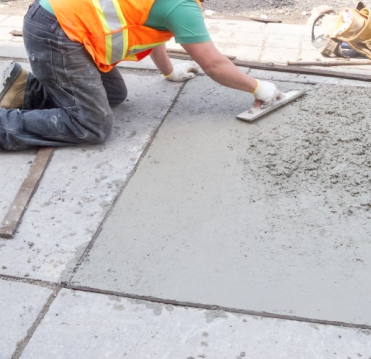 Slab Concrete Repair
If you are dealing with a damaged slab, you know it is unsightly and dangerous. To minimize your inconvenience, we're the experts for concrete repair nearby to help fix cracks, settling, and other issues with your slab. We can also level and stabilize the slab to prevent further damage. We know how stressful it can be when your home is damaged by water leaks or other issues with your slab concrete.
If you're ready to give your concrete a new lease on life, contact Handyman Silver Spring today! Get Free Quotes
Concrete Resurfacing
Is your concrete crumbling? Does it look old and dingy? Don't worry—you're not alone. At Handyman Services, we've helped hundreds of homeowners regain the beauty of their concrete surfaces. Whether you want to improve the appearance of your patios and driveways or replace the concrete damaged by age or weathering, we can work on it!
We offer a wide range of services, including:
Concrete leveling and repair

Concrete staining and sealing

Concrete polishing
Concrete Step Repair
Concrete steps are an important part of your home, but they can be prone to damage. If you're looking for concrete step repair near you, we can do it for you! Whether it's a single step or the whole staircase, our repairmen will fix it in no time.
Our concrete step repair services include:
Fixing cracks in your concrete steps

Repairing spalling and crumbling concrete

Replacing broken or missing pieces of concrete

Eliminating water infiltration by sealing cracks in the concrete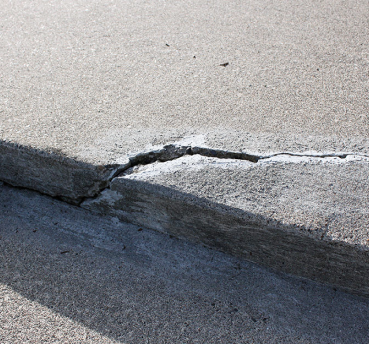 The installation time will depend on the size of your driveway and the weather condition on the installation day. Rain or snow may delay the process.
Multiple signs indicate the need for repair for your concrete. If you see cracks, sunken areas, chipping, flakes edges, or cracked joints between the slabs, you must contact us right away!