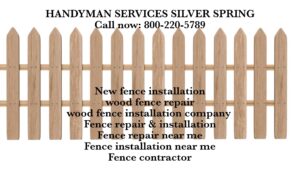 A fence serves as more than just a boundary marker; it's a crucial element that adds security, privacy, and aesthetics to your property. While some homeowners might be tempted to tackle fence installation or repair as a DIY project, there are several compelling reasons to opt for professional fence services instead. Whether you're considering installing a new fence or repairing an existing one, here's why you need the expertise of professionals to ensure a successful outcome:
1. Expertise and Experience: Professional fence service providers bring a wealth of expertise and experience to the table. They understand the nuances of various fencing materials, styles, and installation techniques. Their knowledge allows them to assess your property's specific needs and recommend the best fencing solution that aligns with your goals.
2. Quality Craftsmanship: When it comes to fences, the quality of craftsmanship matters. Professional fence installers have the skills and training to ensure that the fence is properly constructed, sturdy, and durable. A well-installed fence can withstand the elements and provide long-lasting security and privacy.
3. Customization Options: Every property is unique, and your fencing needs might vary based on factors such as property size, location, and purpose. Professional fence services offer customization options to cater to your specific requirements. They can recommend the right fence style, height, and material that complements your property's aesthetics and serves its intended purpose.
4. Permits and Regulations: Fence installation often involves adhering to local building codes and regulations. Professional fence services are well-versed in these requirements and can navigate the permitting process on your behalf. This ensures that your fence installation is compliant with the law and avoids potential legal issues down the line.
5. Time and Efficiency: Installing a fence, especially for larger properties, can be a time-consuming task for someone without the proper tools and experience. Professional fence installers have the equipment and expertise to complete the job efficiently, saving you time and allowing you to enjoy the benefits of your new fence sooner.
6. Cost-Effectiveness: While hiring professionals might come with an upfront cost, it's often a cost-effective choice in the long run. Properly installed fences require fewer repairs and replacements over time, saving you money on maintenance and replacements that could have been avoided with professional installation.
7. Access to High-Quality Materials: Professional fence services often have access to high-quality fencing materials that may not be available to the average homeowner. This ensures that your fence is made from durable materials that can withstand weather conditions and the test of time.
8. Insurance Coverage: Accidents can happen during fence installation, and professional fence services typically carry insurance coverage to protect both their employees and your property. This means that in the unlikely event of damage or injury, you won't be held liable.
9. Enhanced Property Value: A well-designed and properly installed fence can enhance the curb appeal and overall value of your property. Professional fence services take into account the visual impact of the fence, ensuring that it complements the aesthetics of your property and contributes positively to its value.
10. Long-Term Satisfaction: Investing in professional fence services leads to long-term satisfaction. You can trust that your fence will be installed correctly and will serve its intended purpose effectively. This peace of mind allows you to enjoy the benefits of your fence without worrying about potential issues or repairs.
In conclusion, professional fence services offer a range of benefits that go beyond just the installation process. Their expertise, quality craftsmanship, adherence to regulations, and access to high-quality materials all contribute to a successful fence installation that adds value, security, and aesthetics to your property. Whether you're looking to enhance your property's privacy, security, or visual appeal, opting for professional fence services is a wise investment that ensures a durable and well-designed fence for years to come.