Things To Know Before Hiring Drywall Contractors
When it comes to home renovation projects, drywall installation is often a critical step in achieving the desired result. Whether you are finishing a basement, remodeling a bathroom, or adding a new room to your home, hiring a professional drywall contractor can save you time and ensure a high-quality finish. However, before you hire a drywall contractor, there are several important things you should know.
Licensing and insurance
The first thing you should look for when hiring a drywall contractor is their licensing and insurance. A licensed contractor has met the minimum requirements set by the state or local government and has passed a written exam. Insurance, on the other hand, protects both you and the contractor in case of an accident or damage to your property. Make sure to ask for proof of both licensing and insurance before hiring a drywall contractor.
Experience and reputation
Another important factor to consider when hiring a drywall contractor is their experience and reputation. You want to work with someone who has experience with the type of project you are working on and has a good reputation in the industry. Look for contractors who have been in business for several years and have positive reviews from previous clients.
Portfolio and references
Before hiring a drywall contractor, make sure to ask for their portfolio and references. A portfolio will give you an idea of their previous work and the quality of their finishes. References will allow you to speak with previous clients and learn about their experience working with the contractor. Ask for at least three references and follow up with each one to get a better understanding of the contractor's work and professionalism.
Contract and payment terms
Once you have selected a drywall contractor, make sure to get a written contract that includes all the details of the project, such as the scope of work, timeline, payment terms, and materials to be used. Make sure to read the contract carefully and ask any questions before signing it. You should also discuss payment terms, such as the deposit amount, progress payments, and the final payment, before the work begins.
Permits and inspections
Depending on the scope of the project, you may need to obtain permits and schedule inspections before the drywall work can begin. Make sure to check with your local government to see what permits and inspections are required for your project. Your drywall contractor should be familiar with these requirements and should be able to assist you in obtaining the necessary permits and scheduling inspections.
Dust control and cleanup
Drywall installation can be a messy process, and it is important to discuss dust control and cleanup with your contractor before the work begins. Ask how they will protect your home from dust and debris, and what measures they will take to clean up after the work is done. A reputable contractor should have a plan in place to minimize du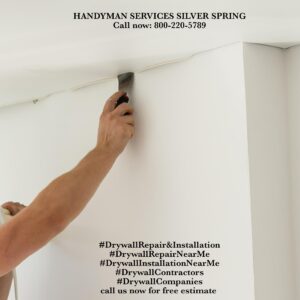 st and debris and leave your home clean and tidy after the work is complete.
In conclusion, hiring a drywall contractor can be a great way to ensure a high-quality finish for your home renovation project. However, it is important to do your due diligence before hiring a contractor. Make sure to check their licensing and insurance, experience and reputation, portfolio and references, contract and payment terms, permits and inspections, and dust control and cleanup. By taking these steps, you can hire a professional drywall contractor who will provide excellent service and deliver a high-quality finish for your project.