Revamp Your Home with Professional Painting Services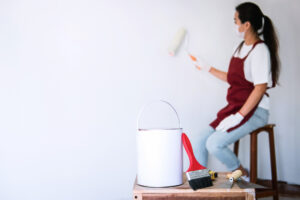 Your home is a reflection of your personality and style, and one of the most effective ways to transform its look and feel is through painting. Whether you're moving into a new house, planning to sell, or just craving a fresh, updated appearance, professional painting services can work wonders. In this article, we'll explore how professional painting can revamp your home, enhance its beauty, and provide you with a space that truly feels like your own.
1. Fresh Color Palette: One of the most noticeable ways to revamp your home is by changing its color palette. Professional painters can help you choose the perfect colors to set the mood you desire in each room. Whether you prefer soothing neutrals, bold and vibrant hues, or a mix of both, their expertise ensures a harmonious and aesthetically pleasing result.
2. Improved Aesthetics: Over time, walls can become worn, discolored, or marked with stains. Professional painters can restore the visual appeal of your home by addressing these issues. They can also apply decorative finishes such as faux painting, texture, or murals to create stunning focal points in your rooms.
3. Surface Preparation: Proper surface preparation is key to a flawless paint job. Professional painters meticulously clean, sand, and patch surfaces as needed before painting. This ensures that the paint adheres well and produces a smooth, long-lasting finish.
4. Quality Materials: Professional painters have access to high-quality paints and materials that are not typically available to consumers. They use premium paints that offer better coverage, durability, and resistance to fading and staining. The result is a finish that stands the test of time.
5. Efficient Work: Painting can be a time-consuming and labor-intensive task for homeowners. Professional painters have the experience and tools to complete the job efficiently, minimizing disruptions to your daily life. They also work diligently to meet deadlines and ensure timely project completion.
6. Expertise in Technique: Achieving a professional finish requires skill and technique. Professional painters have the expertise to apply paint evenly and smoothly, avoiding common issues such as brush marks or drips. Their attention to detail results in a polished appearance.
7. Increased Home Value: A well-executed paint job can significantly increase the value of your home. Whether you're planning to sell or just want to enhance your investment, professional painting is a cost-effective way to boost curb appeal and overall worth.
8. Customization: Professional painters can create custom finishes and effects tailored to your preferences. Whether you desire a vintage distressed look, a modern minimalist style, or something entirely unique, they have the creativity and skills to bring your vision to life.
9. Eco-Friendly Options: If you're environmentally conscious, professional painters can offer eco-friendly paint options that have low volatile organic compounds (VOCs).
10. Stress Reduction: DIY painting projects can be stressful and time-consuming. Hiring professionals allows you to relax and enjoy the transformation process without the hassles of taping, priming, and cleaning up afterward.
11. Proper Cleanup: Professional painters take care of cleanup and disposal of materials, leaving your home clean and ready for you to enjoy your freshly painted space.
12. Expert Advice: Beyond just applying paint, professional painters can provide valuable advice on color selection, finishes, and design choices. They can help you make informed decisions that suit your style and preferences.
In conclusion, professional painting services are a valuable investment for revamping your home. Whether you're looking to refresh a single room or give your entire home a makeover, the expertise, quality materials, and attention to detail offered by professional painters can make a significant difference. With their help, you can transform your living spaces into inviting, stylish, and harmonious environments that you'll be proud to call home.