Protecting Your Fence: How to Rescue Fencing from Wind Damage
Introduction: When it comes to protecting your property, a sturdy and well-maintained fence is essential. However, strong winds can pose a significant threat to the integrity of your fence, leading to damage or even complete destruction if not properly addressed. To help you rescue your fencing from wind damage and ensure its longevity, we have compiled some effective tips and strategies. Read on to learn how to safeguard your fence and maintain its functionality for years to come.
Choose the Right Fence Design and Materials: Selecting the appropriate fence design and materials can significantly impact its resilience against strong winds. Consider choosing fences that allow wind to pass through rather than solid panels that can act as a barrier and create pressure. Some suitable options include chain-link fences, vinyl picket fences with gaps, or slatted fences. Additionally, materials such as cedar or pressure-treated wood, metal, or composite materials tend to be more wind-resistant.
Install the Fence Properly: Proper installation is crucial for ensuring the strength and stability of your fence. Follow these guidelines for secure fence installation: a. Dig deeper post holes: Digging the post holes deeper than the frost line helps anchor the fence more securely. b. Use high-quality materials: Opt for heavy-duty, corrosion-resistant hardware and durable fasteners. c. Set posts in concrete: Securely set the fence posts in concrete to provide additional stability. d. Check local regulations: Ensure compliance with local building codes and regulations when installing your fence.
Reinforce Existing Fences: If your fence has already been installed and you want to reinforce it against wind damage, consider the following measures: a. Install additional support posts: Add extra posts along the length of the fence, especially in areas prone to high winds. b. Strengthen the structure: Attach diagonal braces or support beams between the fence posts to enhance stability. c. Secure loose panels: Tighten any loose or sagging panels and replace damaged components promptly.
Trim Surrounding Trees and Shrubs: Overhanging branches and dense foliage can act as wind traps, increasing the pressure on your fence. Regularly trim any nearby trees or shrubs to reduce the risk of wind damage. Additionally, consider removing any dead or weak trees that could potentially fall and damage the fence during high winds.
Install Windbreaks: Strategically placing windbreaks can provide protection for your fence. Solid structures such as hedges, walls, or other types of fences can help create a barrier that deflects wind away from your fence. Ensure that the windbreak is positioned perpendicular to the prevailing wind direction for maximum effectiveness.
Perform Regular Maintenance: Regular maintenance is crucial to identify and address any issues before they become major problems. Inspect your fence periodically for signs of damage, including loose or broken components, weakened posts, or compromised stability. Promptly repair or replace any damaged parts to prevent further deterioration.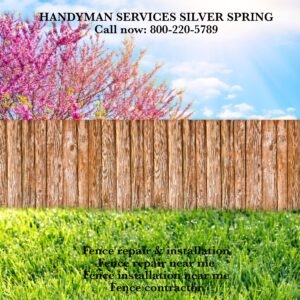 Protecting your fence from wind damage is essential for its longevity and functionality. By choosing the right design and materials, installing the fence properly, reinforcing weak areas, maintaining the surrounding landscape, and performing regular inspections, you can ensure your fence remains resilient against strong winds. Remember, seeking professional assistance from a reputable fence company can provide expert advice and services tailored to your specific needs. Take proactive measures to safeguard your fence, and enjoy a secure and durable barrier for years to come.