How often to paint home exteriors?
Nothing gives the home a more refreshing look as a fresh coat of paint. Is the exterior paint of your residence faded, chipped, or cracked? Well, this brings down the aesthetic appeal of your residence. Also, when you want to sell the place then there is a need to go for exterior painting. Apart from knowing the season you should go for residential painting, another question that comes up is how often you should go for it. The answer to this question is simple. It depends on several factors. This includes the exterior home finish, location, quality of preparation as well as the painting aspect of the last job. Additionally, deciding upon how often to consider exterior painting also rely on other factors. This includes location, quality & also aspects of the last residential painting job. When you decide how frequently to go for home wall painting, think about your personal preferences. Whether you want to sell the home shortly? How much is the paint exposed or vulnerable?
What things can impact lifespan of wall painting job?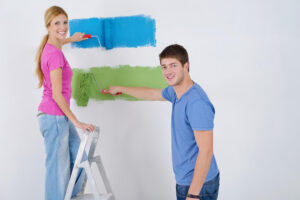 The exterior finish also decides upon the frequency of the wall painting job. On some material, paint lasts longer. While in others, paint needs to be done quite often. Don't you know the kind of material your home exterior has? If yes, then take the help of a residential painting professional.
This is an important component to decide the frequency of wall paint. The weather your home has to deal on daily basis. So, location is significant. For example in sunny areas, ultraviolet radiations fade away paint. Also, leads to a decent volume of chemical bound breakdown. Other climatic conditions include humidity, frequent rain, storms or blowing sand. In such areas, paint ages fast. So, residing here requires more exterior & interior painting upkeep.
Previous paint job quality also affects the need to repaint. Preparation is a big deal. Whenever it comes to a long-lasting and aesthetically beautiful paint job. This means removing old, dirty, and greasy paint from house. Necessary repairs should be made and also apply primer.
Get fresh coat of paint on home exterior with the help of professional painter!
Hopefully, with this blog, you get a general idea how often to go for exterior paint. And to be honest it's all about hiring professionals providing exterior painting services. Is your home in need of a fresh coat of exterior or interior painting? If yes, then call a professional painter and get a free no obligation quote!