Enhancing Outdoor Living with Professional Deck Services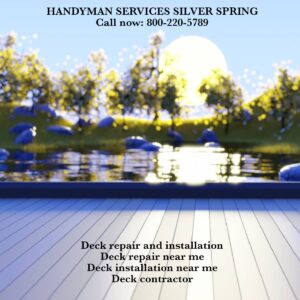 When it comes to creating an inviting and functional outdoor space, a well-designed deck can make all the difference. Whether you're looking to expand your living area, create a gathering space for friends and family, or simply add value to your home, investing in professional deck services can transform your outdoor living experience. With their expertise and skill, deck professionals can help you design, build, and maintain a deck that suits your lifestyle and enhances the beauty of your home. Here are some key benefits of hiring professional deck services.
Customized Deck Design: Professional deck builders have the knowledge and experience to create a deck design that is tailored to your specific needs and preferences. They will work closely with you to understand your vision, assess the available space, and suggest design options that maximize both functionality and aesthetics. Whether you want a small, intimate deck or a sprawling multi-level structure, they can bring your ideas to life while considering factors like local building codes and regulations.
Quality Materials and Workmanship: A deck is exposed to various weather conditions and needs to withstand years of use. Professional deck services ensure that high-quality materials are used during construction, resulting in a durable and long-lasting deck. From the foundation to the decking boards, they will select materials that are not only visually appealing but also resistant to rot, warping, and insect damage. Moreover, experienced deck builders possess the skills and craftsmanship to construct a deck that is structurally sound and safe for regular use.
Time and Cost Efficiency: Building a deck on your own can be a time-consuming and costly endeavor, especially if you lack the necessary expertise and tools. By hiring professionals, you can save valuable time and avoid costly mistakes. They have the knowledge to efficiently plan and execute the project, ensuring that the construction process is smooth and streamlined. Professionals also have access to industry discounts on materials, which can help reduce the overall cost of the project.
Safety Considerations: Safety is of paramount importance when it comes to outdoor structures like decks. Professional deck services prioritize safety during every phase of the project. They will design and construct the deck in compliance with local building codes, ensuring that it meets all necessary safety standards. Additionally, they will take into account factors such as load-bearing capacity, railings, and stairs to minimize the risk of accidents and injuries.
Regular Maintenance and Repairs: Over time, decks may require maintenance and repairs to keep them in optimal condition. Professional deck services not only build decks but also provide ongoing maintenance services. They can help with tasks such as deck cleaning, staining, sealing, and replacing damaged boards. By engaging their services, you can prolong the lifespan of your deck and ensure it remains safe and visually appealing for years to come.
In conclusion, investing in professional deck services is a wise choice for enhancing your outdoor living space. From custom design and quality construction to ongoing maintenance and repairs, deck professionals bring expertise, efficiency, and safety to the table. By entrusting your deck project to experienced professionals, you can enjoy a beautifully designed and well-constructed outdoor space that adds value to your home and provides endless opportunities for relaxation and entertainment.