Embrace Deck Replacement and Revamp Your Property Magically!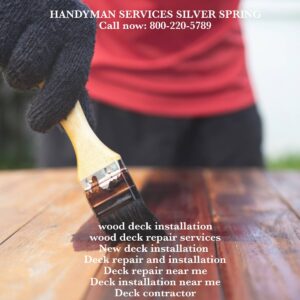 Introduction
Decks, often referred to as the heart of outdoor living spaces, play a pivotal role in enhancing the beauty and functionality of your property. Whether you're hosting gatherings, basking in the sun, or simply enjoying a peaceful moment alone, a well-maintained deck can be your haven. However, over time, wear and tear can take a toll on even the sturdiest of decks. In this guide, we'll explore the magic of deck replacement and how it can transform your property into a haven of leisure and relaxation.
The Aging Deck Dilemma
As decks age, they face several challenges, including:
Structural Deterioration: Over the years, constant exposure to the elements can weaken the structural integrity of your deck, potentially leading to safety hazards.
Weathering and Fading: Sun, rain, and snow can cause your deck's surface to weather, fade, and lose its aesthetic appeal.
Rot and Decay: Moisture and humidity can cause wood decks to rot and decay, compromising their longevity.
Maintenance Hassles: Aging decks often require frequent and costly maintenance, including staining, sealing, and repairs.
Outdated Design: Your existing deck may have an outdated design that doesn't align with your current lifestyle or the aesthetic of your property.
The Magic of Deck Replacement
Deck replacement is a transformative process that can revitalize your outdoor space in several magical ways:
1. Safety and Durability: When you replace an aging deck, you invest in safety and longevity. The new deck will be constructed with modern materials and techniques, ensuring its structural integrity and durability for years to come.
2. Aesthetic Transformation: Deck replacement allows you to choose a fresh design that complements your property's style and your personal preferences. You can opt for various materials, colors, and finishes to achieve the perfect look.
3. Low Maintenance: Newer deck materials, such as composite decking, require significantly less maintenance than traditional wood.
4. Enhanced Functionality: Consider how you want to use your deck. You can customize the replacement deck to include features like built-in seating, outdoor kitchens, fire pits, or hot tubs, making it a more functional and enjoyable space.
5. Increased Property Value: A well-designed and maintained deck adds value to your property. If you plan to sell your home in the future, a new deck can be a significant selling point.
Deck Replacement Options
Now that you're ready to embrace the magic of deck replacement, let's explore some popular options:
1. Composite Decking: Composite decking is a popular choice due to its durability, low maintenance, and wide range of styles and colors. It's resistant to rot, splintering, and fading, making it an excellent long-term investment.
2. Hardwood Decking: For a natural and timeless look, hardwood decking, such as Ipe or Tigerwood, is an elegant choice. It's known for its strength and durability.
3. Pressure-Treated Wood: If you prefer the charm of wood, pressure-treated lumber is an affordable option. It's treated to resist rot and insects, extending its lifespan.
4. Redwood or Cedar: These softwood options offer a beautiful, natural appearance and natural resistance to decay and insects. They are perfect for achieving a classic and inviting deck.
5. Custom Features: Consider adding custom features like pergolas, benches, or lighting to your replacement deck. These elements can elevate both the aesthetics and functionality of your outdoor space.
The Deck Replacement Process
Replacing your deck involves several essential steps:
1. Assessment: Begin by evaluating the condition of your existing deck and determining your goals for the replacement. This will help you make informed decisions about materials and design.
2. Planning: Work with a professional deck builder or designer to create a plan that addresses your needs and preferences. They will help you select materials, create a design, and establish a budget.
3. Permits and Regulations: Check with your local building department to ensure compliance with any necessary permits and regulations.
4. Demolition: If your existing deck is in poor condition, it may need to be demolished. This is a crucial step to ensure a solid foundation for your new deck.
5. Construction: Your deck builder will construct the new deck, including the frame, decking materials, and any additional features or accessories.
6. Finishing Touches: Once the deck is built, it will be finished with any desired accessories, such as railings, lighting, and trim.
Conclusion
Deck replacement is more than just an upgrade; it's a magical transformation of your outdoor living space. By replacing an aging, weathered deck with a fresh and stylish one, you can enhance your property's value, safety, and functionality. Whether you choose composite decking for minimal maintenance, hardwood for timeless elegance, or another material that suits your vision, the result will be a beautiful and inviting outdoor haven where you can create lasting memories. Embrace the magic of deck replacement and revamp your property to enjoy years of relaxation and outdoor living at its finest.