Although harsh summers take a toll on timber decking, the winter season can be damaging as well. The deck maintenance depends upon its material. Do you have composite decking? Then you can breathe easily! The maintenance needs are simply minimal. You just have to clean it and it is all set for winter use. The hardwood deck requires regular maintenance. This prevents expensive deck replacement. By just putting little time & efforts, you can maintain the structure. It also brings longevity to its life.
Let's take a look at simple tips to maintain your deck during this winter season:
Remove furniture & clear surface
This is the first step for maintenance. Remove all furniture as well as debris. The water may accumulate underneath objects lying on a wooden surface. The leaves and organic matter begin to decay. Mold & mildew begins to grow. So, sweep the entire deck surface. Maintain it properly to avoid costly deck replacement.
Look for signs of any damage or deterioration. Also, pay attention to how the boards are actually feeling underneath the feet. If you are unsure whether the decking has substantial damage, browse deck repair near me. The repair or replacement of joists is a hard job & needs the help of deck repair and installation experts.
For regular maintenance, give the decking a thorough clean with soap as well as water. Else, use a good quality deck cleaner. This removes dirt, molds as well as stains. Do you want to remove tough & stubborn stains? If yes, take the help of a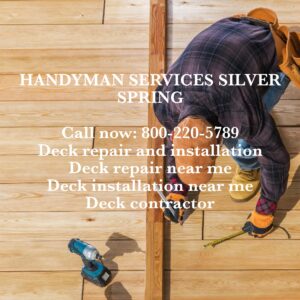 company. The cleaner pressure washes the surface.
Lightly sand timber decking surface. The sanding assists to address any sort of fading, paint peeling, or even discoloration. Find online," deck repair near me". The technician conducts the sanding, facilitating the protective sealant to penetrate thoroughly all across the boards.
After sanding & sweeping decking, it is all set for sealing. A good quality sealant prevents moisture from getting into the wood. Also, provide a shielding layer to protect the boards from harmful UV radiation. The sealer imparts a consistent finish & increases life. This saves your money in the long run. Avoid costly deck installation & repairs.
Conclusion
Is your decking reached towards the end of the life span? Do you wish to replace it? Check out the best quality and low-maintenance options.
Get in touch with a deck installation expert today!